upcoming EVENTS
NOVEMBER 2018
IRFAN
IRFAN is an ethereal world music band from Bulgaria formed in 2001. Their sound is an original electro-acoustic world fusion influenced by the sacred and folk music traditions of Bulgaria, the Balkans, Persia, the Middle East, North Africa and India, as well as by the musical and spiritual heritage of Byzantium and Medieval Europe.

The integrity of IRFAN's sound bears the depths of an audio-archeology that explores the lost prehistoric universal human musical heritage in the layers of time.
---
ELSIANE
ELSIANE was formed in the year 2000, when singer/musician/composer Elsieanne Caplette met drummer Stephane Sotto in his hometown of Montreal. Their instant rapport belied musical and cultural backgrounds which couldn't have been more different: Sotto, a gifted drummer, was self-taught and instinctive, where Caplette's multi-instrumentalism and extraordinary keening voice emerged from a classical training in Lima, Peru. Yet for all their divergent experience, the pair's shared sensibility was undeniable, with common influences passing through jazz, rock, electronic and world music, with an intriguing nod to the Trip Hop of Massive Attack, Portishead and Tricky—influences which, while pleasingly evident in the ethereal beauty of the music they continue to make together, would be constituted in an entirely unique way.

In early 2017, that studio work will see light in the form of their most ambitious and eagerly awaited works to date: a third album, Death of the Artist.

Powered by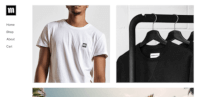 Create your own unique website with customizable templates.